Crony Club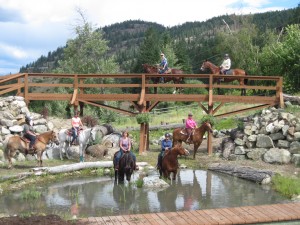 Dust off your boots, and  Come Ride With Us! Membership is now open for the 2019 season of the Vernon Riding Club's  Crony Club. We are a group of adult non-competitive riders who meet on Sunday mornings to ride together under the guidance of Ruth Moore, BHSAI certified coach. The focus is on fun, group riding, and learning new skills. We welcome all riders with all levels of horsemanship skills. Our group is a great opportunity to get out your green or inexperienced horse as well.
In 2014, we tried our hand at Western Dressage, trail obstacles, and we had fun with the beginnings of a Musical Ride. In the late spring we travelled to Hayton Creek Ranch in Oyama for a full day  clinic at their beautiful Mountain Trail Course, a truly a memorable day!
Participation in Crony Club is open to Vernon Riding Club (VDRC) members, and the fee for Crony Club is $50. This entitles you to attend 5 of the 7 scheduled Sunday mornings, as well as the advanced opportunity to attend our fall sleepover weekend in September.   Riding sessions start promptly at 10:00am and go until 11:30 am. So Come Ride With Us! Note that there is an early bird VDRC membership rate available up until March 31st, as well as an out of town membership discount.
Crony Club Dates for 2019: TBA
 If you require further details please contact Kathy Velocci 250-545-4185 or by email.