Crony Club 2020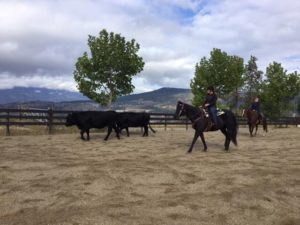 Crony Club is Expanding in 2020!
Dust off your boots, and Come Ride with Us this Spring! Membership is now open for the 2020 expanded version of Vernon District Riding Club's CRONY CLUB.
This season we will offer two riding session times. Flight A will start at 9:30 am, and Flight B will start at 10:30 am. Each session will run one hour. This should enable everyone who wants to join us to enjoy this fun, educational group riding experience.
We are a group of adult recreational riders who meet on Sunday mornings, to ride together under the guidance of Ruth Moore, BHSAI certified coach. The focus is on fun, group riding and learning new skills in a safe and supportive environment. We welcome all riders, all breeds of horses, and all levels of horsemanship skills.
The fee for Crony club is $50 per person, which entitles you to attend 5 of the scheduled group riding sessions. Payment details upon registration.
During our weekly group riding sessions we will work on trail obstacles, pole work, basic dressage and even maybe a musical ride. Every week is different! In past seasons we have had sleepovers, clinics, trail rides, mountain trail clinics and have even sorted cattle! In the fall there is often the opportunity to participate in a group activity, as yet to be decided.
Dates for 2020 are April 26, May 3, May 10, May 17&18, May 24, May 31, and June 21 (if there is a rained out day).
You choose which 5 dates and which start time work best for you. Registration for Crony Club is available to all members of Vernon District Riding Club. Be sure to take advantage of the early bird membership before March 31st. Click here for 2020 memberships
Included in your Crony Club membership is; attendance at 5 of the 7 scheduled Sunday mornings.
If you require further details please contact Kathy Velocci 250-545-4185 or by email.