---
Don't see a show that suits your discipline? We welcome people from different Equestrian Communities to run/organize horse shows & clinics at the VDRC. If you are interested in organizing any shows or clinics, please contact us.
---
Up & Coming Shows and Clinics of 2021
The VDRC has planned events for the 2021 season. In an effort to still offer the most to our members and all riders, we've been working on new COVID-19 Protocols and Policies for events.
Below are the dates for our planned 2021 events, more information and entries will be added when available.
---
SHOWS
Spring Schooling
NOTICE DATE CHANGE: April 17th-18th May 15th-16th || Entry Form Here || Program
Fox Springs Farm Hunter Derby
June 11th-13th
|| Entry Form Here || Covid-19 Attestation & Agreement || Junior Waiver || Senior Waiver ||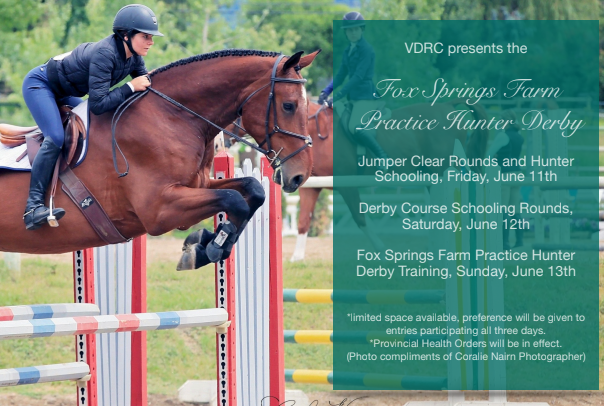 June VDRC Horse Showing Summer Series
June 19th-20th || Brochure & Entry Form ||
Dressage Schooling and Percent Days
July 3rd-4th || Brochure & Entry Form || IMPORTANT NOTICE: email on entry form is incorrect. Please send entries to [email protected]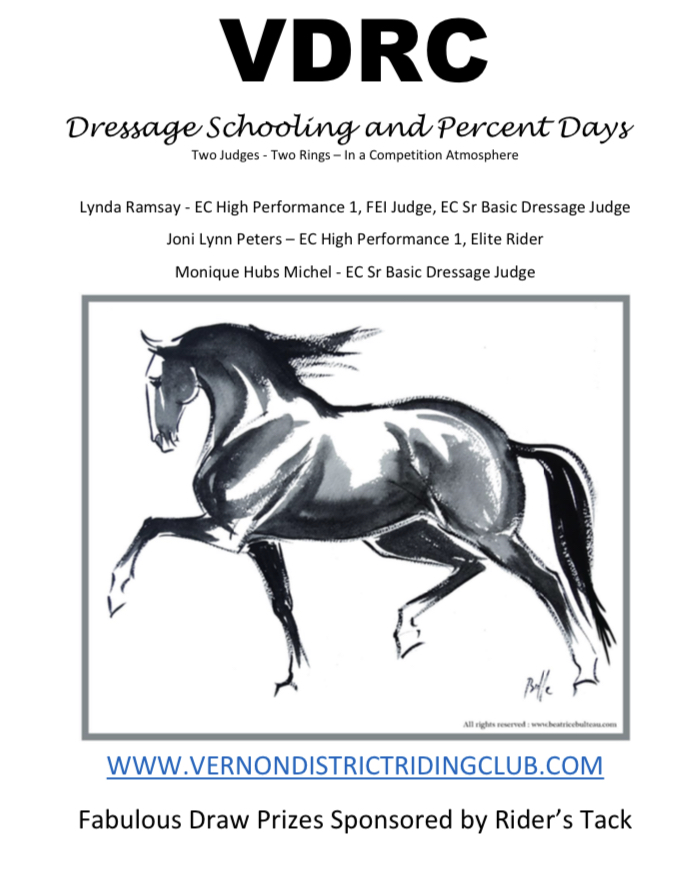 July VDRC Horse Showing Summer Series
July 17th-18th || Brochure & Entry Form || NOTICE: Postponed to August 7th-8th due to smokey conditions
Summer Hunter/Jumper Show
August 21st-22nd, warm-up schooling on August 20th
NEW: Fall Hunter/Jumper Show
October 2nd-3rd
---
CLINICS
Henk Glijn Clinic
May 28th-30th
Please contact Suzanne Wallace for more information (email)
Lindsay Lindford (Beadle) Clinic
June 4th-6th and September 4th-6th
Lindsay Beadle is an ambitious trainer who has been an Equine Canada nationally certified Coach and professional rider since 2006. She actively rides in the Grand Prix's and is known for thoroughly developing horses and riders up to the 1.45m level, as well as her positive and charismatic coaching style.
Please contact Sandra Marbry (250-546-1969, email) for more information